Environmental Monitoring
Sample Collection & Shipping Guidelines
Exhaust Air Dust Collection Devices: In an effort to decrease the use of sentinel animals and increase the diagnostic sensitivity of monitoring rodent colonies for infectious agents, centralized whole rack level monitoring is being used as an adjunct to or a replacement for the use of soiled bedding sentinels. IDEXX BioAnalytics has a full suite of diagnostic real-time PCR assays based on the proprietary IDEXX BioAnalytics platform to provide testing for all of your environmental samples.
1. Exhaust air debris collection filters, membranes, or matrices measuring up to 6 cm x 9.5 cm can be placed lengthwise in a 50 ml conical tube.
a. For matrices suspended in the exhaust air stream, the upward facing side of the matrix should face the center of the collection tube.
b. For thin filters placed perpendicular to the air stream, the side of the filter facing the airflow should face the center of the collection tube.
2. A sample of exhaust air dust may be collected and placed directly in a 2.0 ml microcentrifuge tube for testing.
3. Swabs of plenums, prefilters, dust, or other surfaces can be placed in a 2 ml microcentrifuge tube and the swab head either snapped or cut so that only the swab head is in the tube. Collect as much debris/dust as the swab will hold from the dirtiest portion of the surfaces being swabbed.
4. Cage Swab: Using a sterile, dry flocked swab, thoroughly swab the inside perimeter at the level of the bedding of the empty, soiled cage. Up to 10 cages can be swabbed using the same swab.
Insert the swab halfway into a labeled sterile tube, close the tube lid against the swab shaft, and pull down on the swab shaft to break the shaft. The tip end will fall into the tube and the tube can be capped.

Place labeled sample tubes in a cardboard mailer or styrofoam box and ship overnight to our laboratory. Samples can be shipped at ambient temperature or on ice packs.
Sample Collection Kit Request
Please use this form to request Opti and Radil Advantage sample collection kits: Opti-Spot® cards, swabs, tubes, or serum vials and diluent. Delivery takes 5-7 days. In order to help clients manage resources, we suggest ordering supplies to cover 3 months' worth of testing.
If you have questions about quantities or would like assistance determining items and quantities, please contact us:
idexxbioanalytics@idexx.com
Animal Health Monitoring Online Submission Guide
A quick reference guide to Animal Health Monitoring sample submissions in our online portal.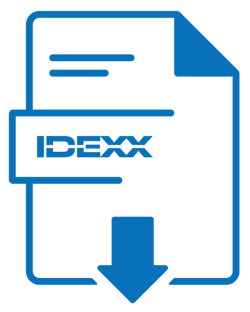 ONLINE SUBMISSION
To submit samples, please login to your account.
If you do not have an account, please fill out the new client registration form below, and our CSS team will assist in getting your account created.
Complete the below form to access our 2022 IDEXX BioAnalytics Directory of Services.

Find product codes, profiles, panels and a complete list of research lab testing support services.